About
Visit our friendly team for competitive pricing and skilled service--the Quick Lane promise. We employ factory-trained, ASE-certified technicians who are knowledgeable about all makes and models.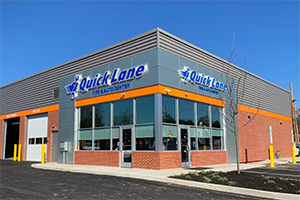 For prompt, reliable automotive service or repair contact one of our expert service advisors at: 
Ph. (484) 739-1185
(auto repair appointments may be scheduled for your convenience but are not required for any Quick Lane service)
Quick Lane at Kennett Square handles all routine, factory-recommended maintenance. We service every makes and models from all major manufacturers--foreign and domestic.
Preventative Maintenance Services
Your vehicle safety depends on quality tires, one of the most important safety items on your vehicle. Quick Lane at Kennett Square offers a wide variety of new tires and major tire brands. You can find tire deals every month on our coupon page.
You may discover more information about choosing the right tire and tire safety tips on our Tire Shop page.
Search for fast, convenient oil change at a "shop near me"? Quick Lane at Kennett Square is your professional oil change station. We offer The Works package, a bundle of important vehicle lube and preventative maintenance services.
Quick Lane at Kennett Square also offers quality brake pad replacement along with reliable brake service . Our technicians use high quality Motorcraft replacement parts.
All of our car routine maintenance and repair services are performed by certified experts.
Services offered for your vehicle: 
Air Conditioning System
Alignments
Alternators & Electrical Service
Batteries
Belts & Hoses
Brake Services
Exhaust repair/replacement and inspections
Emission service
Vehicle safety/certifications
Vital fluid service/exchange/renewal
Vehicle Check-Up Report
Wiper Blades
Cooling System Maintenance
Lamps & Bulbs
Oil Change & Essential Maintenance
Suspension & Steering
Tires
Transmissions
Shuttle Service for Auto Service Customers
We operate a shuttle service for your convenience and can drop you off at home or work. We suggest calling before you drop off your vehicle so we can schedule a convenient drop-off and pick-up time.
About Our Location and Community
Quick Lane at Kennett Square is located at 905 E Baltimore Pike, Kennett Square, PA 19348, near Pennock Avenue. We serve the Kennett Square, Longwood and Willowdale regions.
The rich history of Kennett Square dates back to its Quaker roots. During the Civil War, residents of Kennett Square are figured prominently in the Underground Railroad. Farmers along Route 52 secreted runaways slaves during the day and shuttled them by night to freedom in Canada.
Today, Kennett Square is known as the "Mushroom Capital of the World." It hosts the annual Mushroom Festival in September, which began in 1986 and has grown into an international event featuring all things mushroom. Kennett farmers grow about 63 percent of mushrooms consumed annually in the United States, according to Mushroom Farmers of Pennsylvania. 
Directions to Quick Lane at Kennett Square